lilly lewin, worship curator
For almost twenty years, Lilly has worked with churches that run the gamut from seeker to mainline, from mega church to small traditional, everything from Foursquare Gospel to American Baptist, Presbyterian to Vineyard. Lilly was Director of Spiritual Formation at Christ Church Glendale (Episcopal) in Cincinnati, Ohio from 1998 through 2004. In the fall of 2001, with a few leaders and some enthusiastic students, she started an experiential worship service called Sacred Space. Sacred Space uses multi-sensory prayer, silence, art, discussion and multi media, integrating ancient and future forms of worship to bring liturgy new life. In 2004 she helped found Map Room; an ecumenical experiential worship community for college and post college adults in and around the University of Cincinnati. In 2005 she started the Thinplace gatherings, founded freerangeworship and began curating Sacred Space prayer experiences nationwide and in the UK.
She is an author, artist and atmosphere architect. Writing for Youth Worker Journal, Zondervan (SACRED SPACE with Dan Kimball) , and Youth Specialties, and blogging at Godspacelight.com each friday. (freerangefriday posts). She is part of the Soul Care team for the National Youth Workers Convention( YS) and curates the Sanctuary Prayer Space leading contemplative workshops and designing prayer stations.
Lilly now leads thinplaceNASHVILLE worship gatherings via Zoom and leads experiential worship workshops and practices on line for conferences and church communities.
Lilly and husband Rob live in Nashville, TN  where they host thinplaceNASHVILLE. They have two young adult sons and a khaki dog named #Jakeadoodle. She enjoys great sunsets, good coffee, and lots of dark chocolate.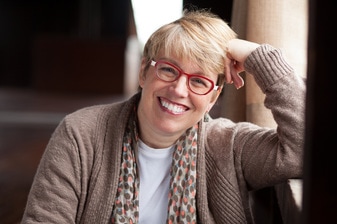 what is freerangeworship?
It is time to open the gate and move our worship beyond singing. Since 2001, I have had the pleasure of curating and creating inter-active, multi-sensory worship experiences that I call experiential worship or Sacred Space. I began with a simple interactive prayer room we used at the end of our youth group time each week and it grew into a full blown worship gathering called "Sacred Space" with participants of all ages engaging God through prayer stations as the talk/sermon. Since then, I've curated Sacred Space prayer rooms and Prayer Experiences at gatherings and churches all over the country and in the UK. My passion is to help people of all ages engage God using all their senses and various learning styles. And since only 20% of the world learns through their ears my desire is to help the 80% of us who learn a different way to worship God. Moving our worship beyond singing and listening and beyond sitting and watching to actually participating. Click HERE to see example pictures.
what is sacred space?
a worship experience is of a series of Prayer Stations based on a theme or on a passage of Scripture.
these prayer stations can be used as a part of worship or as worship on their own.
rather than teaching or preaching a sermon on a passage from the Bible, the prayer stations have the scripture and each person interacts with it on their own using various mediums and responses.
7 essential supplies for a sacred space
1. TABLES
One for each station works best, but anything can be a prayer station, especially when it is covered with a painter's tarp!
2. CANVAS TARPS
Canvas Tarps to cover tables (painter's tarps can be purchased at places like Lowes or Home Depot) and Additional Tarp that can be written on. New Painter's Tarps are great because you can use them to cover up all sorts of things and make them into prayer stations, like stacks of chairs, coke machines, pool tables and pianos. I like them larger rather than smaller to cover the complete table and the table legs (I have a problem with seeing the table legs) also if the tarp goes to the floor, you can hide boxes and supplies underneath. Having the cream colored tarp as the base unifies the space and allows you to add color on top of it in fabric other table clothes etc.
3. VARIOUS FABRIC and TABLECLOTHS
Various types of tablecloths and or fabric (checkered, plain, etc., different colors that can be placed on top of canvas tarps to add color, depth, and decoration) Pieces of Burlap are great too.
4. ART SUPPLIES
Art Supplies and Paper for Art Station ( I don't usually have any paints due to the mess) Crayons, pastels, oil pastels, sharpies, markers, colored pencils, pencils. Construction paper in various colors, white drawing paper and paper for journal writing. Tape, glue sticks and scissors. Magazines for collages.
5. LIGHTING
Candles, Battery Candles and White Christmas lights. These days, due to risk of fire, I tend to have only "live" candles on the entry /intro station table. And use battery candles and white Christmas light on the rest of the stations.
6. SIGNAGE
Signs printed out for each station. You can laminate these signs to use again, and use picture frames to support the signs. I usually back my signs on black card stock. It adds support and frames them well. I have a collection of wooden frames from the Dollar Store and you can buy plexi glass frames there too. I usually just tape the signs onto the frames rather than taking the time to put the signs inside them.
7. BLUE PAINTERS TAPE 
For hanging signs, black sharpie markers, pens and pencils, post it notes
---
4 go-to stations
When I design or curate a Sacred Space prayer room/prayer experience, I always include these following stations:  
1. An ART Station
We all need the opportunity to pray and respond to God in art, poetry, and writing. Our Creator invites us to be Creative! Provide art supplies, paper and space to create. Provide Blue painter's tape so participants can hang their prayers so everyone can pray with them.
2. A REST Station or "Chill Space"
A place to stop and rest and JUST BE STILL and BE with God. We all need help just BEING with Jesus and we all need the space and place to REST.
3. CONFESSION Station
Most contemporary church liturgies do not include a confession, and while some more traditional churches, do, we often just hear the words rather than actually considering that we all need to say we are sorry and ask for forgiveness. 
4. Praying for the WORLD
A station where we can pray for the world and global issues. God blesses the entire planet, not just our neck of the woods, so I always provide a place to pray for the World. If you want, you can include current events and pray for missionaries at this station too.